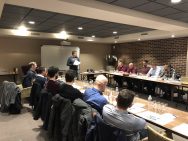 22/03/2018: Onze eerste premium tasting van het jaar dient zich aan en we hebben iets bijzonder kunnen plannen. Danny Eekelaers aka Mr. Pink is bereid gevonden een deel van zijn collectie te delen met onze leden. Iedereen die wel eens naar een festival gaat is vast en zeker Danny al eens (letterlijk) tegen het lijf gelopen. Als je een foto op de term "levensgenieter" moet plakken zou het wel eens Danny zijne smoel kunnen zijn. Fan van het betere bier, wijn, eten, bourgondiër all round maar vooral ook zeer gepassioneerd.
Normaal gezien doet Danny geen tastings of het moest in het verleden voor Fulldram zijn, de gekende whiskyclub uit Leuven waar hij lid was. Voor onze club wou hij echter wel een "efforke" doen en wat voor één.
Het concept: 7 flights (voor iedere streek eentje, een Ierse- en een mystery flight). Voor iedere flight zet Danny 3 flessen blind voor 2 van onze leden, deze leden beschrijven de 3 drams en kiezen er eentje als favoriet uit, de rest van de club stemt op basis van deze info voor welke dram ze gaan. Daarna laat Danny eerst zien welke drams de rest van de leden NIET gaan proeven ;-). Soms worden de kiezende leden net niet gelyncht 😉
De uiteindelijk gekozen line-up (tussen haakjes vind je de scores):
Aperitief: Port Dundas 38 yo 1973/2011 (54.3%, Duncan Taylor, Rare Auld, cask #128322) (0)
Lowlands: Glen Flagler 5yo (40%, OB, Black & red shield label, 100% Pot Still Scotch Whisky, 75cl, 1975*) (0)
Highlands: Glendronach 25yo 12-12-1977/02-05-2003 (54.6%, Signatory Vintage, C#3695, 242 Bts.) (4)
Speyside: Banff 29yo 11/1975-03/2005 (40,7%, Duncan Taylor Rarest of the Rare, #3417, 144 bts.) (33)
Campbeltown: Springbank 15yo (43%, OB, 150 cl, Pure Malt, Black Ceramic Jug for Vinicolo, 1980's) (14)
Islay: Ardbeg 1978-2000 (53%, Gordon & MacPhail Spirit of Scotland, C#454) (28)
Ireland: Undisclosed Irish Single Malt Whiskey 24yo 1991/2016 (49%, Teeling, for Whisky Fair Rhein Ruhr, cask 8390, 162 bts.) (32)
Mystery: Loch Lomond – Inchmurrin 14yo 04/2003-06/2017 (56,3%, OB for Whisky Nerds, Sherry Cask, 17/169-1, 264 bts.) (4)
Ik denk dat het duidelijk is dat dit een zeer leuke, interactieve tasting was. Klein aandachtspunt voor het bestuur: als we Danny nog een keer vragen (en dat zijn we zeker van plan) moeten we ofwel al om 17u beginnen, een zondagnamiddag uitkiezen of een hotel meerekenen want als de voorzitter de tijd niet nauwkeurig had bewaakt zaten we er nu nog 😉
Bedankt Danny!
PS: een overzichtje van wat we niet hebben geproefd (allez: toch niet allemaal)
De volledige selectie van de flessen die Danny voor deze tasting geopend heeft (waanzin).
Aperitief
0) Port Dundas 38 yo 1973/2011 (54.3%, Duncan Taylor, Rare Auld, cask #128322)
Lowland
1a) Glen Flagler 5yo (40%, OB, Black & red shield label, 100% Pot Still Scotch Whisky, 75cl, 1975*)
1b) Glenkinchie 17yo 04-08-1978/06-1996 (60,8%, Signatory Vintage, #3479, 270 bts.)
1c) Saint Magdalene – Linlithgow 21yo 10-1982/07/2004 (63,5%, Duncan Taylor Rarest of the Rarest, cask 2214, 633 bts.)
Highland
2a) Tomatin 19yo 1974/1995 (43%, Cooper's Choice, 43%)
2b) An Cnoc 30yo 1975-11/2005 (50%, OB)
2c) Glendronach 25yo 12-12-1977/02-05-2003 (54.6%, Signatory Vintage, C#3695, 242 Bts.)
Speyside
3a) Banff 29yo 11/1975-03/2005 (40,7%, Duncan Taylor Rarest of the Rare, #3417, 144 bts.)
3b) Longmorn 31yo 05-1976/06-2007 (54.1%, The Whisky Fair, bourbon hogshead, 131 bts.)
3c) Tamdhu 1973/2008 (56%, G&M Reserve, First fill Sherry, C#3230, 481 bts.)
Campbeltown
4a) Springbank 15yo (43%, OB, 150 cl, Pure Malt, Black Ceramic Jug for Vinicolo, 1980's)
4b) Springbank 12yo (43%, OB, Pure Malt, Black Ceramic Jug for Vinicolo, 1980's)
4c) Glen Scotia 31yo 05-1975/2006 (51,4%, Dun Bheagan, Barrel, #2191, 144 bts.)
Islay
5a) Bunnahabhain 33yo (45,5%, Royal Mile Whiskies, #6249, 201 bts.)
5b) Laphroaig 10yo (43%, OB, Old front label without Royal Warrent, 20 cl)
5c) Ardbeg 1978-2000 (53%, Gordon & MacPhail Spirit of Scotland, C#454)
Ireland
6a) Undisclosed Irish Single Malt Whiskey 24yo 1991/2016 (49%, Teeling, for Whisky Fair Rhein Ruhr, cask 8390, 162 bts.)
6b) Undisclosed Irish Single Malt Whiskey 24yo 16/10/1991-17/11/2015 (54,9%, Rolf Kaspar, Hotel Essener Hof, Historic Series No. 5, bourbon cask, 8461#, 161 bts.)
6c) Undisclosed Irish Single Malt Whiskey 24yo 16-09-1991/12-01-2016 (54,6%, Rolf Kaspar, Hotel Essener Hof, Historic Series No. 6, #6868, 223 bts.)
Mystery dram
7a) Loch Lomond – Inchmurrin 14yo 01/2003-05/2017 (53,3%, OB for Whisky Nerds, Bourbon Cask, 17/168-1, 174 bts.)
7b) Loch Lomond – Inchmurrin 14yo 04/2003-06/2017 (56,3%, OB for Whisky Nerds, Sherry Cask, 17/169-1, 264 bts.)