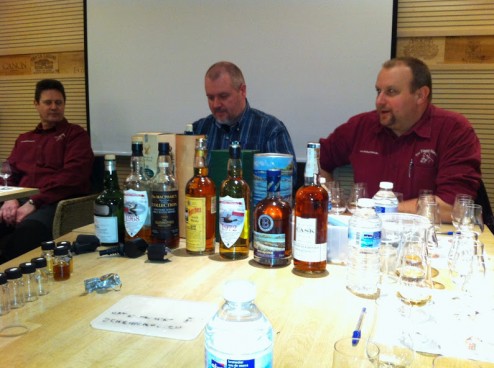 Donderdag 28/02/2013 – Tijd voor de traditionele Boards Choice van The Finest Notes. De bestuursleden spelen ten dans. 7 bestuursleden, 7 flessen. Dit jaar niet gehost door Mario maar door Paul Dejong, de enige nog resterende Belgische MaltManiac. We kennen Paul als een zeer bescheiden man die volgens zijn eigen woorden niet veel van whisky kent maar wij weten wel beter … Paul is al sinds eind jaren '80 bezig met het vocht der goden en behoort daarmee tot de pioniers van België samen met mensen als Gustaaf De Bolle en Bob Minnekeer. Zeer leuk een paar van zijn verhalen te horen uit de begintijd van de whiskyboom in België.
De line-up dan: de bestuursleden hadden de flessen gekozen maar Paul heeft de volgorde bepaald.
Macallan 1977-2004 27y Rare & Old Platinum 51%, 251 btls (5)
Bunnahabhain 1968-2011 42yo Whisky-Fässle – joint bottling with LMDW, 43,8%, refill sherry cask (4)
Glenrothes 1969-2008 The MacPhails Collection 43% (6)
White Horse Spring Cap (2)
Caperdonich 1972-2011 39y Whisky-Fässle – joint bottling with Whiskybase, 45% refill sherry cask (3)
Bruichladdich Legacy V 1972-2006 33y 40.9%, 1690 btls (1)
Strathisla 1974-1992 18yo Gordon & MacPhail 57.8% cask 2206,2207, 195 btls (7)
Persoonlijk een zeer moeilijke keuze om hier een top3 uit te selecteren. De White Horse keek ik erg naar uit en ontgoochelde zeker niet.
Top3 van deze mooie tasting: Bruichladdich, White Horse, Caperdonich. (de cijfers tussen haakjes achter de whisky's duiden de rangschikking aan).
Meer foto's via deze link