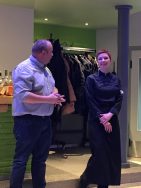 We speelden al geruime tijd met het idee maar afgelopen 26/11/2016 was het eindelijk zover: een 7 gangen diner met bijpassende whisky's. Chef van dienst was Inge Lanckacker. Inge is reeds ruime tijd bekend bij de whiskyliefhebbers als de knappe dame die de festivals afschuimt met lekkere whiskypralines (en ook de pure alcohol waarmee ze haar proevertjes spiked).
Maar zoals gezegd we keken er naar uit en we werden zeker niet ontgoocheld. De reacties achteraf waren zo lovend dat we al onmiddellijk van een vervolg begonnen dromen ;-).
Het menu:
Gepocheerde Sint-Jacobsvrucht met tartaar van kabeljauw, venkelboter, Granny Smith en komkommer
Mortlach 8yo 2008-2016, Signatory vintage, 46°
Granola met kruiden, Noordzeegarnalen, spek, mango en roos
Compass Box 'The Peat Monster', 46°
Gebakken zeetong met boekweit, peultjes en conference
Glen Keith 18yo 1995-2013 selected by & bottled for The Finest Notes 10th Anniv., 51,2°
Lamscurry met kokosmelk en gebakken basmati
Kavalan 2010-2016 ex-bourbon cask selected by & bottled for The Finest Notes, 58.6°
Struisvogelfilet met pompoen, witloof en vanillecrumble
Edradour 2006-2015 ex-Sauternes cask matured, 46°
Peperkoek met Oud Brugge, zwarte olijven en sabayon van Deo (porter van D'Oude Maalderij)
Paul John whisky Peated, 46°
Dronken vanillecake met zwarte thee en whisky, donkere chocolademousse, kersen en cassis
Teeling 2015 Single Grain wine cask finish, 46°
En dat het een gezellige avond was kunnen onderstaande sfeerbeelden wel bevestigen.
Bedankt aan Inge, haar team, en jullie allemaal voor een mooie avond.